When It's Hard to Wait on the Lord (Isaiah 40:31)- Your Daily Bible Verse - December 2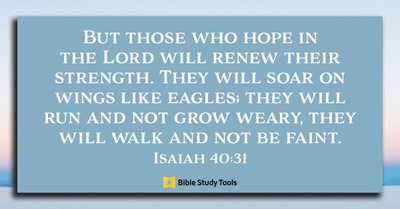 Crosswalk.com

When It's Hard to Wait on the Lord (Isaiah 40:31)
By: Anne Peterson
Today's Bible Verse: But those who hope in the Lord will renew their strength. They will soar on wings like eagles; they will run and not grow weary, they will walk and not be faint. - Isaiah 40:31
You would be hard-pressed to find someone who is not tired of going through this pandemic. We wake up tired. And when we sleep, sometimes it's interrupted sleep. Are you feeling weary today?
In God's Word, we are promised a renewal of our strength. We will be able to soar like eagles, run and not grow weary, walk and not be faint. But we have to know where to get this renewal.
It's not found in our own strength, but only when we hope in the Lord. David told us to be strong, let our hearts take courage and wait for the Lord (Psalm 27:14).
Isaiah tells us God is waiting to be gracious to us. He's waiting to have compassion on us. And when we wait for Him, we are blessed (Isaiah 30:18).
But waiting on God is not easy. We have a tendency to do things in our own strength. The world tells us to pull ourselves up by our bootstraps, and we try.
Paul tells us we should keep in step with the Spirit, since we live by the Spirit (Galatians 5:25). But we get impatient, wanting things to happen by our timetables. When I was younger in the Lord, I would try and remind God when things were taking too long.
God showed me His ways and thoughts are much higher than mine (Isaiah 55:8-9).
God answers our prayers because of His unfailing love. A Father's love understands his children and always wants what's best for them.
Waiting and hoping in the Lord is something we grow into. As new Christ-followers, we believed God could do anything. But somewhere along the way we start believing we should have a hand in things.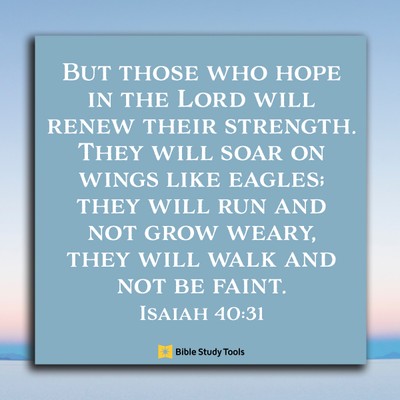 After walking with God for many years now, I've seen numerous answers to prayer. But sometimes those answers are "no," or "not yet." We grow through our trials. We learn that God is who he claims to be. And eventually, we learn to trust God's character more than what he can do for us. That's what maturity is.
I remember coming across the verse, "No good thing will He withhold from those who walk uprightly (Psalm 84:11). It was a liberating day for me. God has his reasons for saying "no," or saying, "wait." Sometimes God will graciously show me how what I was asking for would not have been good for me. But even without that, I have grown to accept God's decisions. His ways and thoughts truly are higher than mine.
Waiting on God is not cumbersome, but instead, it's a privilege. It's an opportunity to flex our faith muscles. And if you want to really stretch them, I challenge you to praise God even when you receive a "no." God is not praiseworthy because He answers our prayers; He's always worthy of praise.
What challenges are you facing right now? Let me encourage you to wait on the Lord. Then when he renews your strength, go ahead and soar!
Take the Reins, Lord
I got so weary on our journey with the paths that you would choose.
I thought my driving was much better, so I took the reins from you.
Your driving always seemed much slower, people passed us all the time,
and we were really getting nowhere, so I snatched those reins from you.
But now we're lost, and I am tired, even though we made good time.
I think we missed our destination when I took those reins from you.
I humbly ask you to forgive this arrogance inside of me,
and Lord, I'd be so very grateful, if you'd take these reins from me.
Anne Peterson © 1996
---
Anne Peterson is a regular contributor to Crosswalk. Anne is a poet, speaker, published author of 15 books, including her recent book, Always There: Finding God's Comfort Through Loss. Anne has also written He Whispers: Poetic talks with God. Sign up for anne's newsletter at www.annepeterson.com and receive a free eBook. Or connect with her on Facebook.
We want to experience God through the Bible… we really do!
But our good intentions fall flat when reading the Bible just doesn't seem to help us experience God in a real way. What should feel alive often feels confusing and boring and irrelevant. But it doesn't have to.
In the How to Study the Bible podcast, pastor and Bible teacher Nicole Unice brings life back to reading the Bible by walking listeners through her Alive Method of Bible study, helping us personally encounter God through his Word by giving us a practical, clear road map for understanding, interpreting and applying Scripture to our lives. Just click below to start listening now!