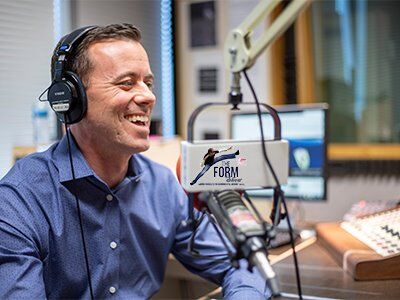 Marc Lucas; Local Ministry Director at Faith Talk 1360AM will be interviewing local leaders and pastors asking them the MUST Answer Questions in Life on the FORM Show every Monday @ 5pm.
Marc Lucas has served as a pastor for a combined 15 years with two mega-churches in the Valley: Sun Valley Community Church and Highlands Church. He's an alumni of Arizona Christian University with a degree in Biblical Studies. He is currently the Local Ministry Director at Faith Talk 1360. He has been married to his wife Tammy, for 16 years and they have 3 beautiful kids Kaylen 14, Kenzie 10 and Karson 6.
He strives to live out 3 words everyday; In my opinion we should always be pushing ourselves to grow 1% everyday! My three words are 'love, laugh and serve.' Today and everyday I will love well, laugh often and serve others. I'm going to focus on these three words three times a day. I put them on my iPhone where they come up as an alarm three different times during the day. My phone buzzes and those words are there, where I go, "Oh right, I'm that guy. I have to focus on being that guy vs. whatever. I might be in a bad mood and completely detached; however, it helps bring intentionality to living out and essentially eulogizing myself daily. To live each day with the end in mind!
His heart and passion is to come alongside the local church because when God wins a city He always does it through the local church.
Sponsored By: