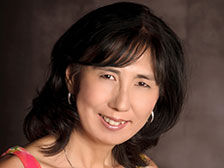 ---
About The Program
Yesterday Today Tomorrow is the program covers the current contemporary social issues in the light of our history to understand our yesterday to live fully today and tomorrow. Through the intense research and study, our program shares the message that helps us to think with rational and critical mind. When we integrate our personal life with studying history, historical and Biblical view can help us unlock our yesterday and lead us to see our today and tomorrow with hope and light. When we dwell in the past, we cannot live fully today, but when we forget the history, we repeat our painful history without being informed (paraphrased by Churchill). Please stay tune 960 The Patriot KKNT 5:30 pm every Saturday and 1360 AM KPXQ 7:00am and 6:00 pm every Sunday with Inseong Kim.
About Inseong J Kim
Powerful Voice of the Generation
Inseong is the radio host, Yesterday Today Tomorrow.
She aired the pro-life program, In His Love, for 10 years. She is a communicator and journalist, radio host (bible teacher and journalist), artist, author, film executive producer and entrepreneur. Inseong studied Special Education at Ewha Women's University, and obtained an Actuarial Science Degree at Ohio State University and is currently being trained at Phoenix Seminary. She is married to Steven, a dentist, for 35 years and has three beautiful children.
In Him,
(John 1:4)
Inseong J Kim
Host of YESTERDAY TODAY TOMORROW