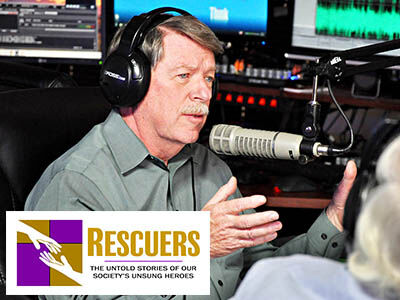 Rescuers host Art Brooks has spent his career in broadcasting, both as on-air talent and in representing the industry as president and CEO of the Arizona Broadcasters Association for nearly 30 years. He was the driving force behind an Emmy-winning series of documentaries on drug abuse that combined a phone bank of 100 seasoned counselors and history-making "roadblock," as every TV station in Arizona and many radio stations broadcast the groundbreaking show on the same day at the same time. He also was instrumental in starting AZ AMBER Alert (one of two states in the nation where broadcasters initiated the program), helped form the Native American Broadcast Institute at Northern Arizona University and consulted with broadcasters in Bulgaria to help build commercial radio as the country was coming out of communism.
Rescuers has been a long-time goal for Art – an opportunity to show how God touches lives through His people.
Art and his wife Dinah have lived in Arizona more than 30 years. He's an avid golfer and made his first hole-in-one the week before taping the first Rescuers episode!
Show Links: