With Us in the Wilderness (Deuteronomy 2:7) - Your Daily Bible Verse - September 11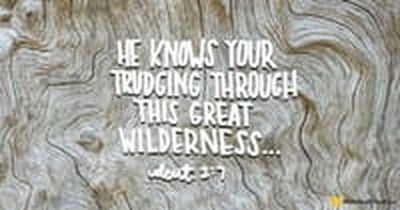 Crosswalk.com

BIBLE VERSE OF THE DAY: "For the Lord your God has blessed you in all the work of your hand. He knows your trudging through this great wilderness. These forty years the Lord your God has been with you; you have lacked nothing."' Deuteronomy 2:7
With Us in The Wilderness
by Jennifer Waddle
When we find ourselves walking through a season of testing, most of us want to get through it as quickly as possible. The refining of our faith is never a pleasant experience. The Israelites knew all too well what if felt like to trudge through hard times. For forty long years, they traveled and camped and wandered, not knowing when they would reach the promised land. Perhaps, that is the most painful part about the testing of our faith. We don't know how long it's going to last or how painful it's going to be.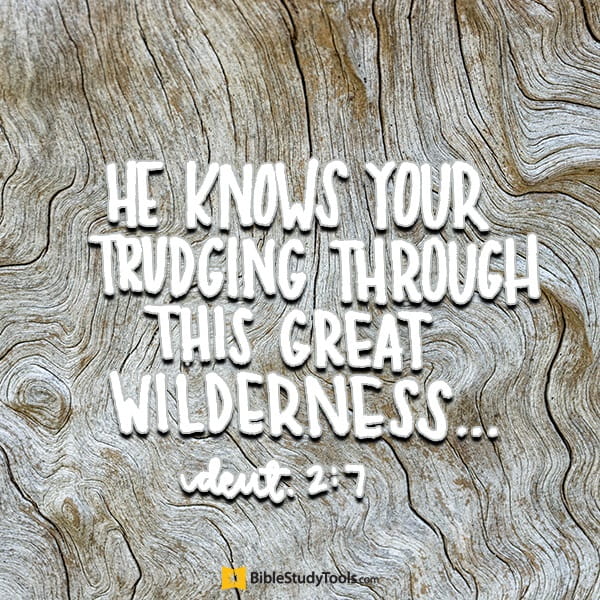 But God…
God, in His faithfulness, walks through the wilderness with us. He provides what we need to make it through. Even though it is painful, it is crucial for the purifying of our faith. Just as the refining of silver involves extreme heat that allows impurities to rise to the surface, so the testing of our hearts involves uncomfortable pressure that urges us to surrender our thoughts, motives, and actions to the perfect will of the Father.
Though painful, we are never left alone in the process. The Refiner doesn't put us through the fire just to stand by and watch. He stays with us, while lovingly turning up the heat until we release our impurities to Him. God knows our "trudging" through this life. He sees the trials and the hardships that come. But He doesn't stand by at a distance. He is with us, and in us, providing the strength we need to endure.
There is no doubt that the Israelites suffered greatly in the wilderness. What could have been a direct route, ended up being a very long road to the promised land. But if the Lord would have ignored their rebellion and skipped the refining process, the impurities of their hearts would have defiled His blessing.
The big question for us, is will we allow God to refine us, or will we continue to wander in the wilderness of rebellion?
Let's willingly yield every impurity to Him. Let's be open to the refining process, knowing that it is strengthening us and preparing us to cross over to the promised land.
In this you greatly rejoice, though now for a little while, if need be, you have been grieved by various trials, that the genuineness of your faith, being much more precious than gold that perishes, though it is tested by fire, may be found to praise, honor, and glory at the revelation of Jesus Christ, whom having not seen you love. Though now you do not see Him, yet believing, you rejoice with joy inexpressible and full of glory, receiving the end of your faith—the salvation of your souls. 1 Peter 1:6-9
We want to experience God through the Bible… we really do!
But our good intentions fall flat when reading the Bible just doesn't seem to help us experience God in a real way. What should feel alive often feels confusing and boring and irrelevant. But it doesn't have to.
In the How to Study the Bible podcast, pastor and Bible teacher Nicole Unice brings life back to reading the Bible by walking listeners through her Alive Method of Bible study, helping us personally encounter God through his Word by giving us a practical, clear road map for understanding, interpreting and applying Scripture to our lives. Just click below to start listening now!