Why Is Higher Education Important?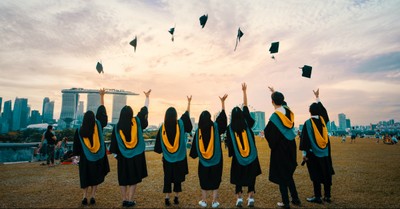 By Dr. Heather Allen, Crosswalk.com
Higher education. What is it? Why do you need it? What do the statistics show? How should you, as a homeschooler, begin approaching higher education? And, most importantly, what is God's plan for your life?
What is Higher Education?
I often read articles, hear people speak, and wonder, am I the only one who doesn't know what that term is that they are using? Usually my question pertains to a commonly used term that I should clearly know the definition of, but just don't. Therefore, I'm going to start by defining higher education. Specifically, higher education is education provided by universities, colleges, and other institutions that award academic degrees. Higher education includes both the undergraduate (i.e., college) and the graduate (or postgraduate) levels. Higher education includes most professional education and is strongly vocationally or professionally oriented. Higher education differs from other forms of post-secondary (after high school) education such as vocational education. Vocational education is a form of secondary or postsecondary education but is considered non-academic as compared to higher education. The figure below is an attempt to visually show these levels of education and just where higher education fits in.
Levels of Education
| | | |
| --- | --- | --- |
| Stages | Approx. Age | Level |
| Primary | 4-10 yrs. | Elementary School |
| Secondary | 11-18 yrs. | High School |
| Tertiary * | 19-22 yrs. | College |
| Quaternary * | 23 yrs + | Graduate School |
* Higher Education
Do you need Higher Education?
Given that we have a basic definition of higher education, why do you need it? According to many sources I've studied, higher education offers graduates more jobs to choose from than are open to those who don't pursue education beyond high school, and graduates typically earn more than nongraduates. Specifically, the US Census Bureau reported in 2004 that, on average, a college graduate earns $54,704, significantly more than the $30,056 earned annually by someone with a high school diploma, or the $22,100 earned by a high school dropout. Another way of looking at these numbers is that, according to the Postsecondary Education Opportunity Research Letter (PEORL), the lifetime income of families headed by individuals with a bachelor's degree will be about $1.6 million more than the incomes of families headed by those with a high school diploma. The PEORL goes on to state that every dollar spent on a college education produces $34.85 in increased lifetime income--not a bad return on an investment.
Higher education improves an individual's quality of life. Studies show that, compared to high school graduates, college graduates have longer life spans, better access to health care, better dietary and health practices, greater economic stability and security, more prestigious employment and greater job satisfaction, less dependency on government assistance, greater knowledge of government, greater community service and leadership, more volunteer work, more self-confidence, and less criminal activity and incarceration. In addition, college graduates supposedly have greater use of seatbelts, more continuing education, greater Internet access, greater attendance at live performances, greater participation in leisure and artistic activities, more book purchases, and higher voting rates. As an aside, I have to admit that I was amazed at some of these items--not that I found them, but that someone actually researched this stuff and thought some of the items were enviable.
Higher education, theoretically, will also enable individuals to expand their knowledge and skills, express their thoughts clearly in speech and in writing, grasp abstract concepts and theories, and increase their understanding of the world and their community.
According to Federal Reserve Board Chairman Alan Greenspan, "We must ensure that our whole population receives an education that will allow full and continuing participation in this dynamic period of American economic history." What Mr. Greenspan is saying, basically, is that without a college education you may be left out. As time goes on, the relationship between a college education and success will become more and more significant in our information-driven global economy.
What do the statistics show?
Given the reasons for higher education, what do the statistics show? Focusing now on homeschoolers, I'm just going to attempt to hit the highlights of some of the data out there. I have to preface this discussion, though, with the caveat that we don't know the true numbers of homeschoolers applying to and attending institutions of higher education, and much of the data out there is several years old. However, I believe that the general trends in the data provide a good feel for how homeschoolers are doing.
First, homeschoolers are more likely to attend college. A survey of more than 7,300 adults who were homeschooled, conducted by the National Home Education Research Institute (NHERI) showed that of homeschool graduates aged 18 to 24, 74% had taken college courses, compared with 46% among the general population in that same age group. Further, about 12% of those surveyed homeschoolers had received bachelor's degrees, compared with 8% of the general population. And 50% of homeschoolers had some college but no degree, compared with 34% of the general population. Almost 9% of homeschoolers had two-year associate degrees, compared with 4% of the general population.
The results of the SAT and ACT, our nation's major college-entrance tests, also credit those students who identified themselves as homeschoolers with outperforming non-homeschooled students. In 2002, homeschooled SAT-takers averaged 1092 (out of a possible 1600), compared with 1020 for the national average of all SAT-takers, or 72 points higher. Similarly, in 2004, homeschooled ACT-takers averaged a score of 22.6, compared with the national average of 20.9 for all ACT-takers.
How does this translate into college admission? Well, just a few years ago, only a handful of colleges and universities were prepared to admit homeschooled students. Today, homeschoolers have been and are being admitted to more than a thousand colleges in at least five countries. Further, many of these students are being admitted with scholarships. Search on the web for colleges that admit homeschoolers and you'll be surprised at the lists that have been compiled to help you sort through the many possibilities.
How should you, as a homeschooler, begin approaching higher education?
As a homeschooler beginning to approach higher education, be sure to start early. Think about your interests and goals, and identify what level of education you'll need to pursue those interests and goals. If higher education is required, read web sites, books, and periodicals to learn about colleges and universities. Find which schools will meet your specific needs and then find out about their policies concerning homeschooled students. Start mapping out your strategies for how to best target the schools selected.
Second, keep organized, keep records, and determine the best format (e.g., transcript or portfolio) for those records. Keep this information complete and updated. Don't rely on memory. Write down, with dates, anything and everything that you feel might be useful during the application process. Keep track of specific demonstrations of leadership qualities. Start compiling a list of individuals who might be appropriate for writing letters of recommendation.
Third, map out a timeline of what needs to be done when. Include specific courses that might be required and when they should be taken, what tests (e.g., PSAT, SAT, ACT, SAT II) have to be taken, and application dates. You can also think about enrollment in community college classes, taking classes via distance learning, taking Advanced Placement (AP) tests and taking College Level Examination Program (CLEP) tests. These are all things that should be planned into the timeline.
Fourth, look for avenues for funding, such as scholarships. Often money is available and goes untouched because of lack of awareness. Look for those opportunities to defray the costs of higher education.
And fifth but probably not last, consider college at home. There is the possibility, through distance learning programs, to continue your education from home at a significantly reduced cost. There are even ways to tackle lab courses and meet research requirements through distance learning. Don't discount the possibility before researching.
All of these things are offered as catalysts to get you thinking and researching. There's so much I'd love to write, but due to space constraints, I'll have to leave it to you to do the research pertinent to your interests.
What is God's plan for your life?
I think the most important question to ask, now that I've written this column on higher education, is, what is God's plan for your life? Focus and prayer should be on this very question with the answer dictating the direction of education.
Often we hear people stressing that their children must go to college if they want to get a good job, make a good income, and support a family. Just as often, colleges or universities are pre-selected for those children because that particular institution is a parent's alma mater. Then, a child is often sent to that institution without clear direction (i.e., a clear plan of a major and a goal at the end). What a sad, but all too typical, story.
I heard Mike Farris speak at our Christian Association of Parent Educators (CAPE-NM) conference in New Mexico several years ago, and he spoke of this very problem. He basically said that after the purchase of a home, there is no greater expenditure of money than sending a child to a college or university. Further, this decision is often made with little thought or planning. We send the child to school, he or she goes for a few years, and then, all of a sudden, is on the spot to pick a major. Credits in various areas are tallied, and often the decision rests on what area has the most credits. He went on to say how foolish we are when it comes to higher education. We don't plan. We don't counsel our children in this area. We don't pray. We treat this particular expenditure pretty cavalierly considering how much money and time is at risk.
Mr. Farris also went on to speak about young women attending college and how he has counseled his daughters. He has suggested to his daughters areas of study that could lead to a career that could be conducted from the home. For example, if a woman went into graphic design, in the event that income was needed due to the death of a spouse or job layoff, she could do that work from the home while still caring for the children. As I listened, I thought that that was excellent wisdom.
Much of the data out there, and much of what is reported above, focuses on the material rather than the spiritual. We must pray for guidance when it comes to any area of our lives, including higher education. We must also seek wisdom in counseling our children. As I was working on this column, I came across a website, Heart of Wisdom, at homeschoolinformation.com/FAQs/what_about_college.htm. A paragraph on that page caught my attention, and I thought it worthy of using as a closing to this column.
Before you place extreme importance on a college education, however, remember that a college degree is worthless if one does not know Christ. It is of little value for our children to master chemistry and algebra if they don't know how to get along with their spouses or cannot learn how to discipline their children. It is of little value for one to be fluent in several foreign languages if he doesn't have tongue control. It is of little value for one to diagram a sentence if one cannot communicate true feelings. Are you sure college is God's plan for your child?
A Survey of Homeschool Friendly Colleges and Universities in the United States*
Abilene Christian University (Abilene, TX)
Agnes Scott College (Decatur, GA)
Alaska Bible College (Glennellen, AK)
Albion College (Albion, MI)

Alma College (Alma, MI)
Andrews University (Berrien Springs, MI)
Anne Arundel Community College (Arnold, MD)
Appalachian Bible College (Bradley, WV)
Aquinas College, (Grand Rapids, MI)

Arcadia University (Glenside, PA)
Arlington Baptist College (Arlington, TX)
Ashland University (Ashland, OH)
Bennington College (Bennington, VT)
Berea College (Berea, KY)

Berry College (Mount Berry, GA)
Biola University (La Mirada, CA)
Bluffton College (Bluffton, OH)
Bob Jones University (Greenville, SC)
Bryan College (Dayton, TN)

Cottey College (Nevada, MO)
Dartmouth College (Hanover, NH)
David Lipscomb University (Nashville, TN)
Drexel University (Philadelphia, PA)
Duquesne University (Pittsburg, PA)

Evangel University (Springfield, MO)
Faulkner University (Montgomery, AL)
Freed-Hardeman University (Henderson, TN)
Gordon College, (Wenham, MA)
Grove City College (Grove City, PA)

Hanover College (Hanover, IN)
Hillsdale College (Hillsdale, MI)
Hiram College (Hiram, OH)
Huntington College (Huntington, IN)
John Brown University (Siloam Springs, AR)

Johnson & Wales University (Charleston, SC)
Johnson & Wales University (Denver, CO)
Johnson & Wales University (Norfolk, VA)
Johnson & Wales University (North Miami, FL)
Johnson & Wales University (Providence, RI)

Judson College (Elgin, IL)
Judson College (Marion, AL)
Kent State University (Kent, OH)
Lebanon Valley College (Annville, PA)
Lee University (Cleveland, TN)

LeTourneau University (Longview, TX)
Lousiana College (Pineville, LA)
Lubbock Christian University (Lubbock, TX)
Luzerne County Community College (Nanticoke, PA)
Maranatha Baptist Bible College (Watertown, WI)

Mary Baldwin College (Staunton, VA)
Marylhurst University (Portland, OR)
The Master's College (Santa Clarita, CA)
Northampton Community College (Bethlehem, PA)
Ohio Wesleyan University (Delaware, OH)

Patrick Henry College (Purcellville, VA)
Pensacola Christian College (Pensacola, FL)
Piedmont College (Demorest, GA)
Pillsbury Baptist Bible College (Owatonna, MN)
Providence Christian College (Ontario, CA)

Quincy University (Quincy, IL)
Saint Joseph's College (Rensselaer, IN)
Sarah Lawrence College (Bronxville, NY)
Sheldon Jackson College (Sitka, AK)
Spurgeon Baptist Bible College (Mulberry, FL)

Stanford University (Stanford, CA)
Sterling College (Sterling, KS)
St John's College (Annapolis, MD; Santa Fe, NM)
Talladega College (Talladega, AL)
Taylor University (Upland, IN)

Thomas Aquinas College (Santa Paula, CA)
Toccoa Falls College (Toccoa Falls, GA)
Towson State University (Towson, MD)
University of Alabama in Huntsville (UAH) (Huntsville, AL)
University of Bridgeport (Bridgeport, CT)

The University of Mobile (Mobile, AL)
University of Pennsylvania (Philadelphia, PA)
University of Saint Francis (Fort Wayne, IN)
Vanderbilt University (Nashville, TN)
Waynesburg College (Waynesburg, PA)

West Point (West Point, NY)
Wilson College (Chambersburg, PA)
* This list is not exhaustive, nor does it guarantee admission to homeschoolers; however, it is offered as a place to begin your search.
--------------------------
Heather Allen is The Old Schoolhouse's Town Square chief contributing writer and Senior Analylical Consultant. She has a PhD in Experimental Psychology, served as an Aerospace Experimental Psychologist in the US Navy, and worked 11 years for Sandia National Laboratories. Shd and her husband Steve have homeschooled their three children for 8 years.
Copyright 2005. Used with permission. The Old Schoolhouse Magazine. Right now, 19 free gifts when you subscribe. www.TheHomeschoolMagazine.com
Photo Credit: Unsplash/Pang Yuhao
Related podcast:
The views and opinions expressed in this podcast are those of the speakers and do not necessarily reflect the views or positions of Salem Web Network and Salem Media Group.
Read the full article here!